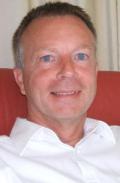 I have been interested in psychology and related subjects for many years.  That interest developed into taking up a Foundation Course in counselling some 23 years ago.  It was following that very positive experience that inspired me to take it further and continue the training to become a professional counsellor and psychotherapist.
I have been self-employed in private practice for the last 16 years.  I am committed to the benefits of therapy, which I believe help to manage and negotiate the pains of life and the very difficult problems that we all need to deal with sometimes.
As a working practitioner I use psychodynamic and psychoanalytical ideas.  I have a license to practice psychotherapy issued by the Westminster Pastoral Foundation London (WPF) who are the premier Psychodynamic organisation in the UK.  I trained to an advanced level with WPF and with their support studied further to complete a Masters Degree at Roehampton University.
To ensure that I keep up to date with new developments and to maintain my training and professional skills, I regularly attend Continuing Professional Development events during the year.
I offer counselling and psychotherapy based on my professional standing, qualifications and specialist clinical experience of both short and long term consultations.